In a word? Everything. It's what distinguishes your company from others that might do the same thing as you. As part of your overall brand, it should help to tell your story at a glance. It's who you are in the business world. It deserves a lot of attention and yes, your love and devotion.
This past August we made the tough decision to put Dezine Source to rest. Our company would be reborn with a greater focus on our strategic planning and content services. We needed a new name.
I've named hundreds of products and programs but this was going to be tough. Stick with me for the story of MightyWrite.
Once upon a time … there was a domain
One of our first checkpoints was looking at available web domains. We wanted to establish our new endeavor as a Canadian company so actually preferred to go with the .ca rather than the .com. That helped us early on, as there are generally more .ca domains available. Still, some early favorites were knocked out this way.
We tossed around a lot of ideas. Thoughts were related to how much equity we already had in the Dezine Source brand and whether the new name should be an extension of what we already had. This forced us to face the reality that although it had served us well in our work with a number of longstanding clients, Dezine Source has limited market exposure. We considered how these clients would react to the change and determined that while there was some risk, the benefits of starting fresh far outweighed the obstacles. As long as we could back up the new brand with our existing credentials, it was worth the risk.
This freed us up to move on to a new name. We had a blank canvass, which can be frightening to the creative soul, but we felt up to the challenge. To begin this process, we established the criteria of what we wanted the new name to do:
Be descriptive, creative and clear
Attract attention
Achieve good SEO
Include the word write
Resonate with business
Relate to our unique selling proposition
Express the strength and power of our approach
Stand out, maybe even raise some eyebrows
Entertain, engage, and get people thinking
We came up with a final shortlist of about 5 potential names and did a search to see what was available to us from a copyright and domain perspective.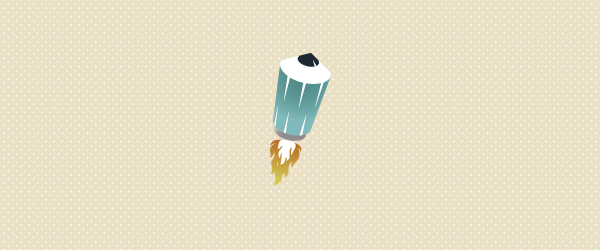 We then circulated the finalists to a core group of trusted business associates representing a variety of skills and interests – writing, graphic design, marketing, business management, workplace relations, mental health, environmental activism and spiritualism.
Our reviewers were unanimous in choosing MightyWrite as the ideal name that best distinguished us and reflected our core values and strengths – our experience, the variety of clients we've had, the scope of projects we've worked on and finally how we pull all this together to help push clients forward. We really do live by the saying, "The pen is mightier than the sword" although we do have to get tough with clients sometimes.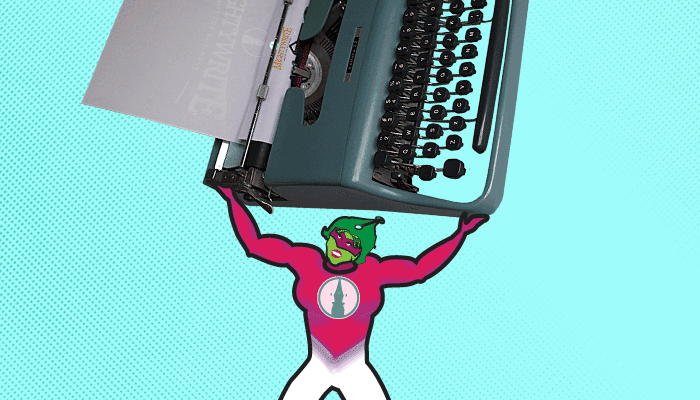 We circled back to the domain check and woohoo! MightyWrite.ca was available. We immediately secured it and made our way through all the hoops to register the new name.
Designing the brand
Next was thinking about the look and feel of the brand. This got a little ugly, voices were raised and a lot of things thrown in the air (and maybe at each other) to arrive at a design we could agree on, developed by my partner Michael Fournier.

We loved some of the earlier designs, but the feedback from our review group was mixed.  This forced us to stretch our brains even further to arrive at the final design.  Immediate feedback from our peer group was "love it"  "it's so you" "you've knocked it out of the ballpark" ! ! !  Just the response we all hope for when we put our hearts into creating something new.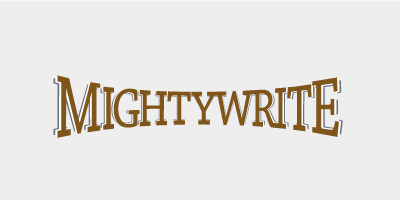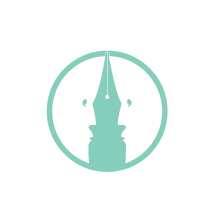 The logo is creative, shows some spunk and is credible without being too stuffy which is how we want to be perceived by our business clients. There was some concern that the pen quill might age us, but we agreed that we wanted the brand to convey that we have been at this for a while and have the experience to meet our clients' diverse needs. The face-to-face component of the design is spot on in illustrating how we work with clients — putting our heads together, and yes sometimes butting heads, to achieve results.
Positioning
I'm a great believer in the power of words to bring your message home. A logo on its own is a great thing but the positioning you put behind (or alongside) it can really help tell your bigger story. The tagline "Write for Business" clearly positions the work we do with clients and gives the brand excellent SEO.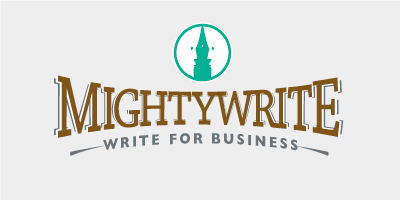 And they all lived happily every after
That's the MightyWrite brand story. We've shared it, because it embodies the same principles we apply to developing brands for our clients:
Make it relevant to the target audience
Ensure it conveys a sense of who you are, what you do, your values and how you contribute
Build it around your goals and the results you're after
Be distinctive with a look and positioning that tells your bigger story.
Do you believe in the power of a name? What are your brand challenges?  I could go on and on. Let's talk.