When I got the weekly prompt in my Story Republic writing group – "The gift of surprise" – I couldn't resist writing about this day when, crisis averted, all I could do was laugh at my crazy response. It was good medicine.
My feet are freezing. As I push them under the dog sleeping at the end of the bed to warm up, a thought flashes through my drowsy mind…If I'm this damn cold under the covers it must freaking cold outside!
I'm now wide awake. My garden!
I had been out by the fire last night with my son and had him check the overnight forecast. No frost warning and it was expected to stay around 8 celcius. No need to cover the tomatoes, the star of my garden and my most coveted remaining crop.
The garden has been my passion project these past few years, seeing me through the deep isolation of the pandemic and moving to a new, tight knit community.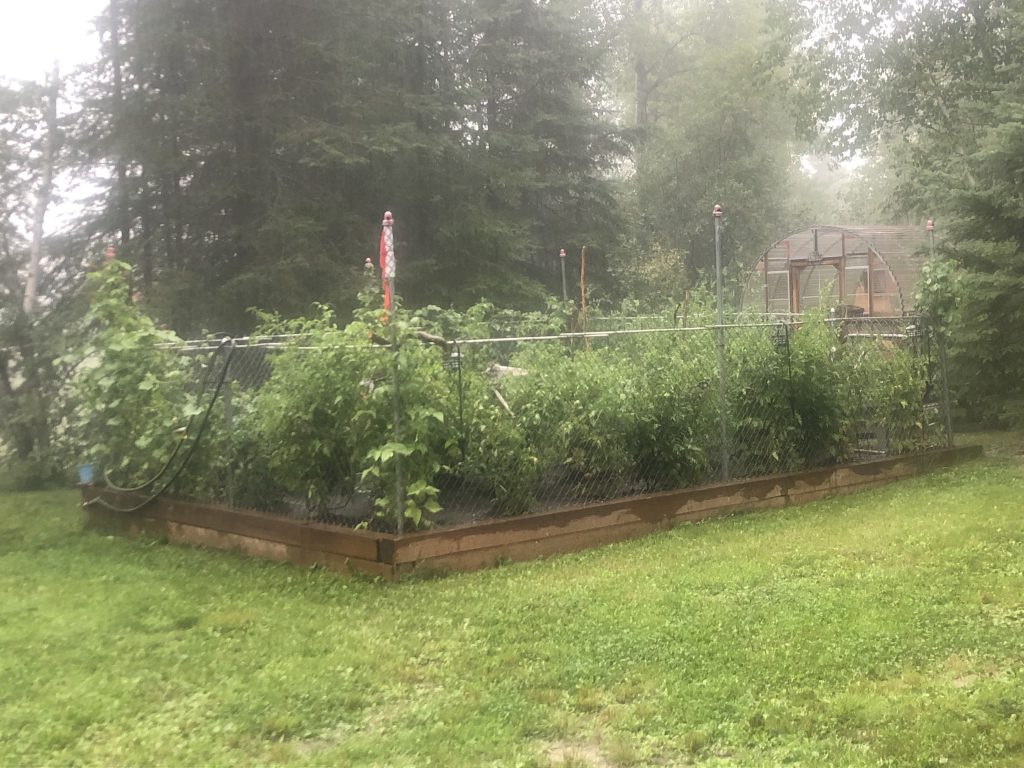 Frost this early in September – while not completely unheard of – is still a surprise.
I spring out of bed (pun intended), startling my partner curled up next to me and the dog who jumps off and follows on my heels as I throw on my housecoat and pop out to the deck. I haven't bothered to check the weather yet, but I cringe as I run my fingers along the glistening sheen on the patio table. During the summer I'd brush the moisture away, but this morning it's solid ice. I curse loudly. F-n frost!
At this point, I'm screaming at everyone and everything. The husband has rolled out of bed and our son, who is here on a work project, has also stumbled outside. Both, half dressed, stand there not knowing what to do.
I have not had the presence of mind to don my rubber boots or a jacket and am racing around in my flip flops, housecoat and pyjamas. I run to the fence and my worst fears are realized as a I see a cucumber frozen to the metal railing. At this point, I'm blubbering as I cast my eyes down the rows of tomato and basil plants. I race into the garden, and am immediately comforted by the fact that my lightly clad feet sink into in the earth. The ground hasn't frozen yet.
I reach for a tomato plant. While the plant is definitely cold, almost shivering like me, it doesn't feel frozen. I breathe a sigh of relief and continue down the row, brushing my fingers across the Roma's.
The other varieties I've planted are some giant heirlooms and several cherry tomato plants. The latter were a mistake, I usually only plant one cherry for salads but there was a mix-up in my seeds somehow. These little rascals, while tasty are driving me nuts. They are very prolific and a pain to pick and prepare, although I did make a killer pasta sauce with them earlier this week. Who knew?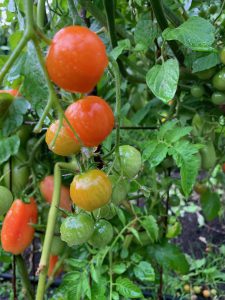 It's so cold the hose is also frozen. This isn't a good omen I think as I struggle to unwind it so the water can pass through to spray the plants. My husband is hovering in the background, and I bleat out that we should have heated the damn greenhouse! I manage to wrestle the hose free and the water gushes out of the spout.
As the drops land on my beauties, I can feel myself calming down.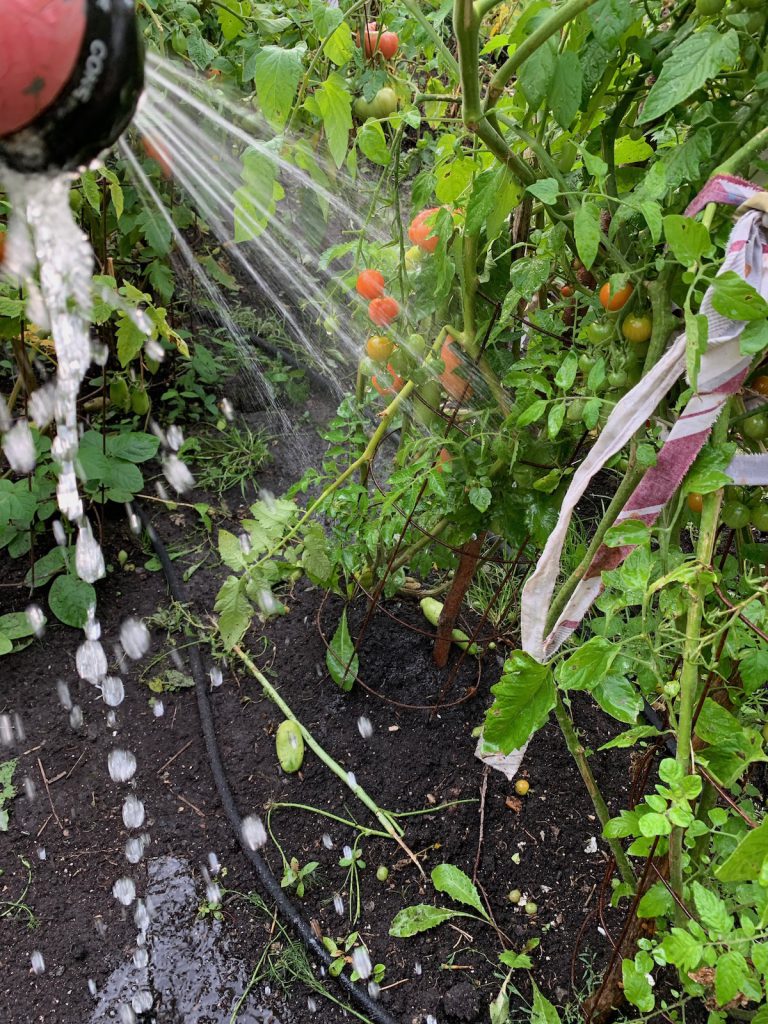 These are truly my "babies" that I have nurtured from seedlings to the giants they have become in this banner garden year. I think they will be okay, ripening soon for the batches of salsa, sauces, and roasted tomatoes I'll be canning for the winter. We are about ½ hour out of town so these are lifesavers when bad weather hits and I can't or won't manage the unpredictable drive on hilly country roads to the grocery story.
I've read about spraying the plants to remove frost. But then I worry it's so damn cold this morning maybe this will freeze them anyhow? I don't know what else to do other than pull down the works and put them in my green house but dammit, it's supposed to get to 20C on the weekend. We're not ready to startup the greenhouse just yet as that requires heat and costly electricity – although basking in the heated greenhouse with my plants as the bite of early winter comes in is a favourite pastime.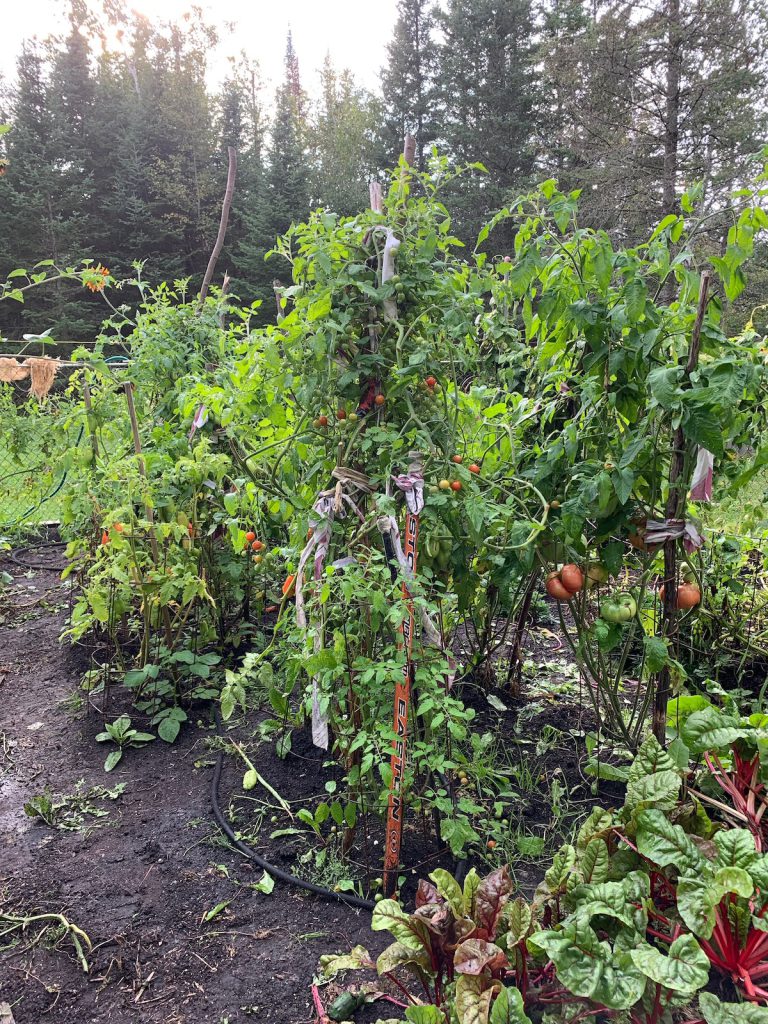 I look down and see my fleece housecoat is dotted with water, streaks of dirt and a few of the sticky leaves from the cucumbers. My feet are a mess, chunks of garden dirt caked between my toes and on the soles of my paltry sandals. My hair has blown in the wind and I can only imagine what I look like.
I begin to giggle at the image of me running around screaming, squeezing tomatoes, prying frozen cucumbers off the fence, and spraying water wildly about – all without having yet a cup of coffee in my belly or a comb through my hair. It's too much and I am overcome with laughter. A roaring belly laugh.
It feels good.
My husband and son, who are both sitting quietly in our screen room – with cups of coffee – must think I'm nuts.
"All good?" That's the hub. I can see the smirk on his face, but also a glimmer of admiration that I seem to have taken this in stride.
"Yeah," I answer. "But we probably should get the greenhouse ready, we're gonna need it soon."
He nods, sips his coffee. I know he'll resist until the last minute, but he'll get it done as he does every year and I can spend the early days of winter in my happy place, with a notebook, a cup of coffee or glass of wine, and the ripening fruits of my labour as my company. It's an incomparable peace where I find space to solve many of the problems of the world or just those in my head.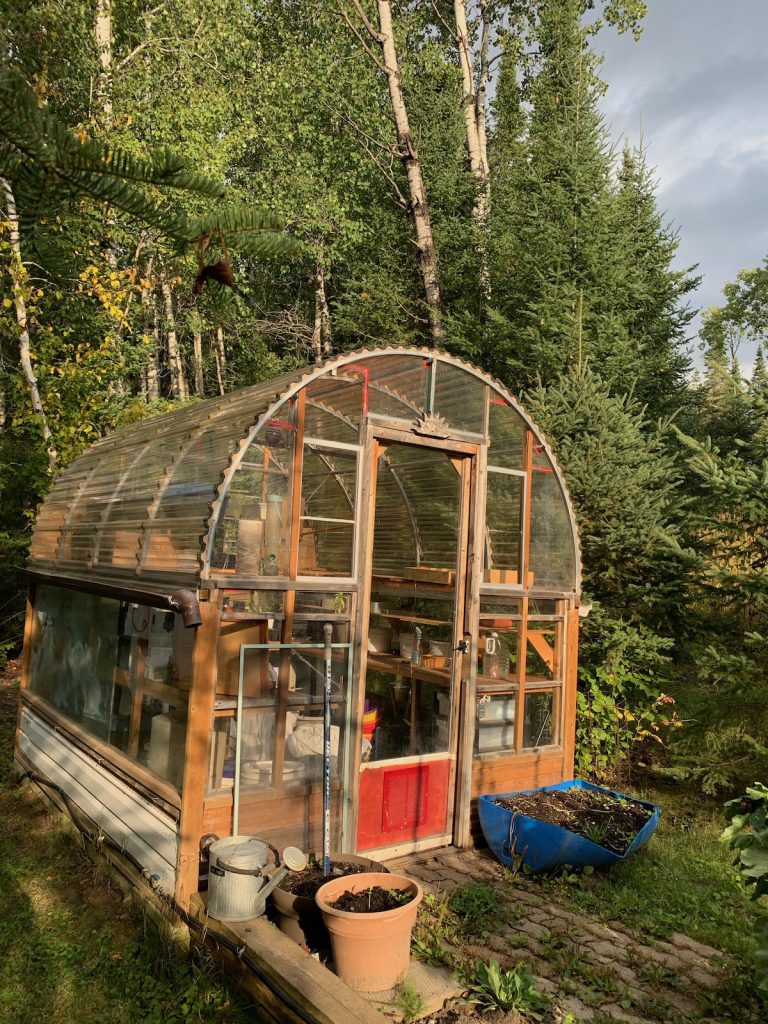 There's a silver lining, a gift in this moment, when I realize I got this. Even if I lost the tomatoes and cucs today, the garden doesn't owe us anything. I already have a pantry filled with canned pickles, beans, relishes, and salsa along with carrots and potatoes and the freezer is filling up with vacuum sealed packs of fresh basil, oregano, dill, thyme, beans, beet tops and swiss chard. The fresh taste of any or all of these during the long, dark days of winter is worth all the effort.
I calmly remove my sodden flip flops and head to the bathroom where a glorious hot shower awaits.
Warmed as I emerge, the steam creates a soft halo around my hand as I reach for my clean housecoat. I contemplate that first cup of coffee…and maybe some bacon and eggs.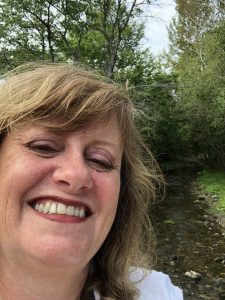 I think I've earned it.
---
And here's a surprise for you – a great garden recipe. Enjoy!!
Lindy's Amazing Canned Green Tomato Cucumber Relish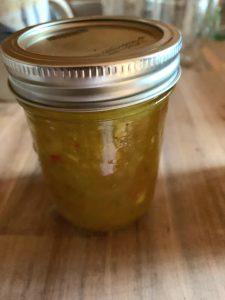 My good friend Lindy is one of my gardening mentors and swears this relish is so good people eat it right out of the jar. Great as gifts. While it changes the consistency a bit, highly recommend a food processor to mince of all those veggies! This recipe is a lot of work but so worth it and it's a great way to use up slow ripening tomatoes – before the frost!
Makes 8 pints (do the math for the size of jars you have or like to use)
Full – Recipe can be down or up sized depending on how many tomatoes and cucs you have.
8 cups peeled, seeded, minced cucumbers (8-10 large)
3 cups minced onion
4 cups minced green tomato (6 large)
1 hot red pepper, minced (I substitute canned banana peppers)
1/2 cup minced green pepper
2 cup sweet red pepper
4 cups celery, diced
1/3 cup coarse salt
Your food processor will make mince of most of those veggies! Place all in very large bowl, sprinkle with salt, leave overnight.
Next day drain, squeeze out liquid, add 4 cups white wine vinegar and 3 cups ( or less) sugar. Lindy uses 2 cups of organic cane sugar.
Cook over medium heat for 25 minutes, stirring often.
In a small bowl combine 1/2 cup flour, 1 tsp. turmeric, 1 Tbsp celery seed, 1 Tbsp mustard seed & make a paste with another cup of vinegar (you could use cider or rice vinegar to alter the flavor).

Add to pickle mix, stir until thick and boiling. Cool, stirring, for 20 minutes

Place in sterilized jars, seal, boil sealed jars at 320C for 20 minutes*.

*Follow your favourite safe canning instructions.