For the last few years, I've been part of a team staging a large and diverse arts festival in Kenora, Ontario. Being the chair of the presenting organization, my role is to support the coordinator and get all of the funding for the event – which I do under my other hat as a professional grant writer. This year I was successful in getting just over $60,000 to present the event that was augmented by some great local sponsorships (with credit to our coordinator).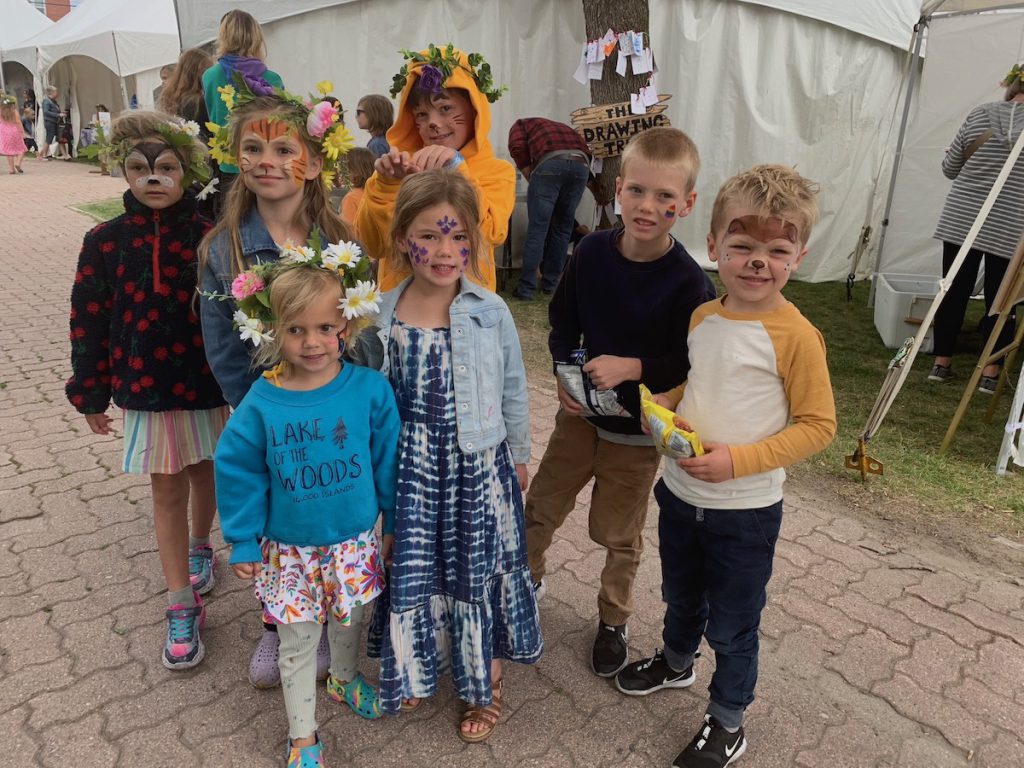 For LOWAC, I also draw on my years of media and community relations, writing and coordinating most of the media coverage and community outreach. I was thrilled when the local newspaper picked up the story. I truly believe the arts are what will save us all for what it brings to humanity when it works – as we did for ArtsFest – toward creating safe spaces where everyone is welcomed, included and seen.
kenoraminerandnews.com/news/local-news/artsfest-returns-with-a-bang
ArtsFest 2023 delivered a creative, fun-filled day!
Kenora, Ontario—Organizers, participants and volunteers were thrilled with the success of ARTSFEST 2023, staged Saturday, July 15 in downtown Kenora. The grounds of The Muse – the Lake of the Woods Museum and Douglas Family Art Centre – came alive with a spectacular array of live performances, artist exhibits and demonstrations and the tremendously popular KidZone. ArtsFest is the flagship event of the Lake of the Woods Arts Community (LOWAC).
"We couldn't be happier with how the day unfolded," said Shauna DeGagné, LOWAC's 2023 Event Coordinator. "Bringing joy and positivity into our downtown core via the arts is something that everyone can be proud of."
The day started with the traditional Waubshkih Gaubaawiik drum leading the opening ceremonies, with prayers by Elder Jeanette Skead of Wauzhushk Onigum.
The Main Stage performances drew enthusiastic crowds for harpist Olivia Whiddon, Jada's Children's Music, soloist Ted O'Flaherty, and The Sunday Mornings (Missy Jacobson and Peter Welch) folk duo.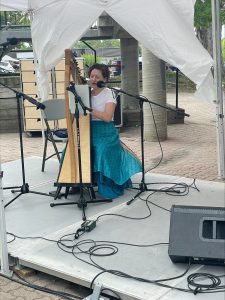 The Nish Deva Fashion Show mesmerized festival attendees with the beauty of the Indigenous regalia and fashions created by youth under the guidance of local artist Evelyn Finlayson.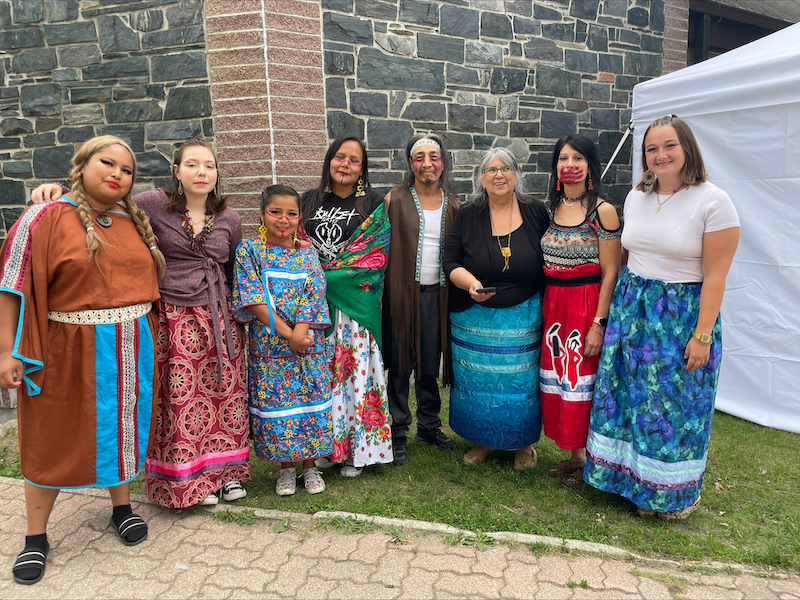 The lively KidZone was a huge success. "Many people came out specifically to bring the kids," said KidZone coordinator Carolyne Lynch. "I spoke to people from town, from cottages, day trippers and campers traveling across Canada." The group of young volunteers in the kid's tent was vital to its success as was artist Susan Bulman, tactile artisan Aimee Baldwin, and entrepreneur Vic Moss, who all offered guided activities throughout the day.
Just under twenty exhibitors from many different disciplines – painting, writing, digital media, beading, pottery, sculpture, fashion, and jewelry – were on hand for art sales and demonstration. Many shared how they loved staging the event in Kenora's new arts hub.
"Let me congratulate you on a successful ArtsFest 2023!", shared novelist and painter Frederick Ross. "I was very impressed by the efficiency of your volunteer staff and by the location of the event. Where in Canada can you find a war memorial surrounded by four amazing buildings with architecture representative of the era in which they were built? Kenora must be very proud of this unique location."
Visual artist Irene McCuaig added, "From a vendor's point of view, the day was excellent and well-organized. You thought of everything. Loved the tents, the food, the helpful volunteers, the entertainment. Kudos to all involved."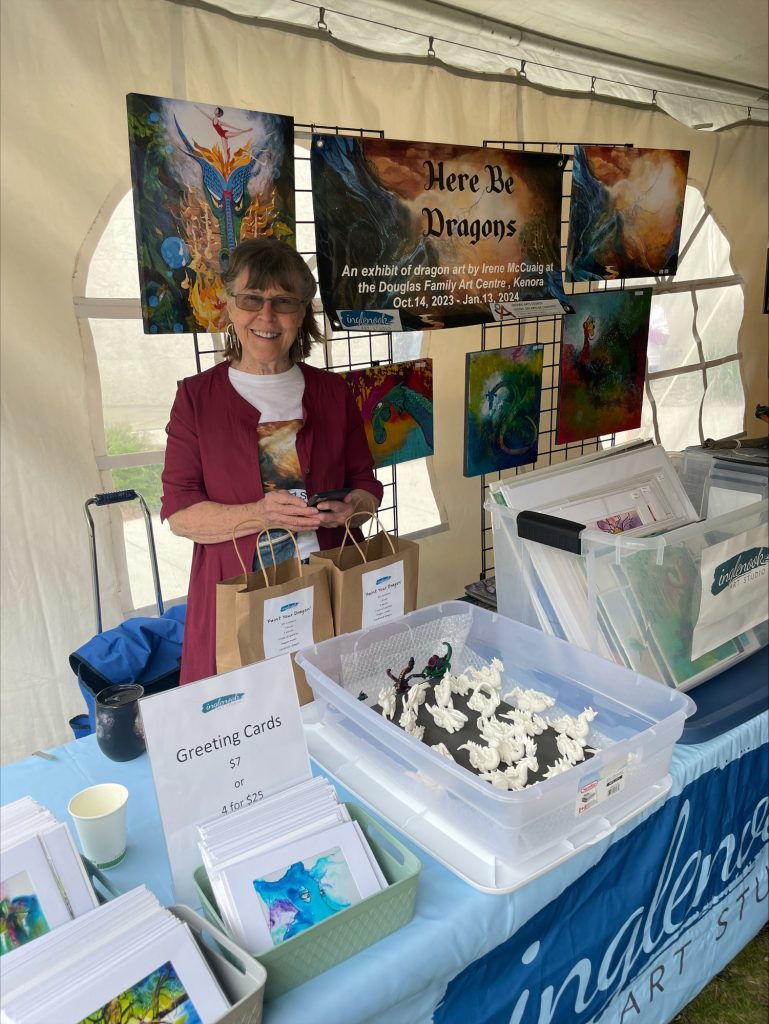 The Community Arts Hub was also on site, asking the public to spend a moment reflecting on what they love best about our community. Kenora-themed postcards were provided so that messages of love could be written on them and then popped into a handmade postbox. This project will circulate around town this summer and eventually, the responses will be displayed as one community arts project.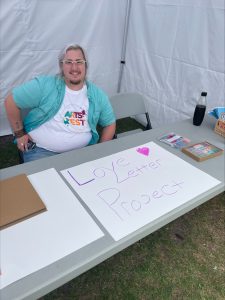 The event saw just under 1,000 attendees throughout the day and raised just over $1,000 that will go towards LOWAC's ongoing delivery of arts programming and scholarships.
ARTSFEST 2023 would not be possible without the generous support of the Ontario Arts Council, Kenora and Lake of the Woods Regional Community Foundation, Kenora Hospitality Alliance, The Muse, City of Kenora, and numerous other community and media partners including Kenora Honda, Kenora's Home Hardware, Northern Sounds & Systems, Ronning Law Office, Wake Marketing, Lake of the Woods Cottage Guide, Out of the Woods Counselling, Canada Safeway, World of Water, and Lana Wong of Lana's Kitchen.
Planning for ArtsFest 2024 will begin soon and volunteers and fundraising ideas are needed. If you'd like to be a part of it, email lowacdirectors@gmail.com.
More photos and all the details are available at lowac.ca/artsfest-2023.