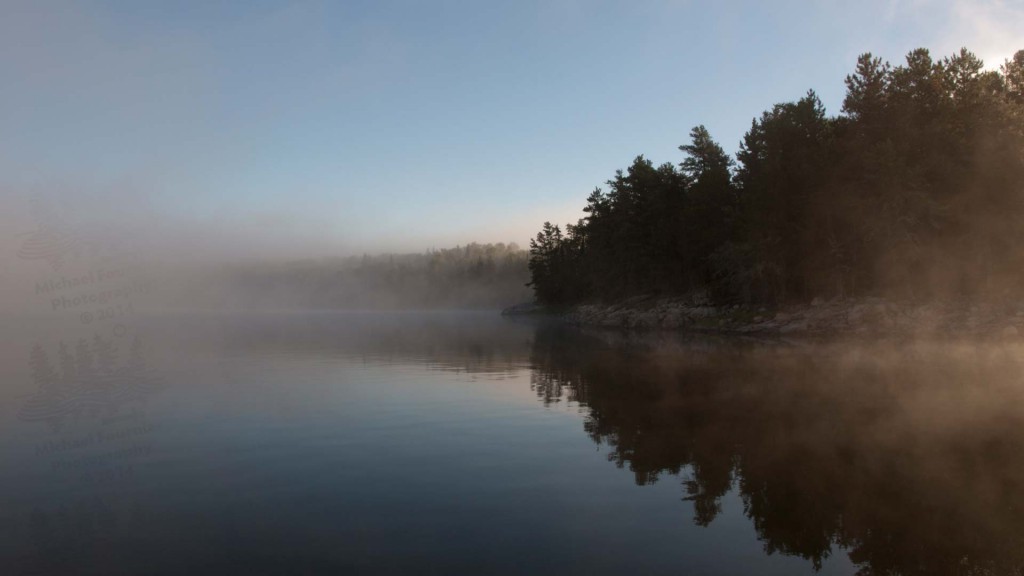 The mist sits thick and heavy on our secluded bay. As it slowly lifts, I am held by its beauty and its promise. I watch with anticipation. I'm anxious for the light and warmth of the day, yet also want it to stop, stay just as it is, because I am secure and still in its embrace. The mist, the morning, the day, all emerging in their individual glory. It's easy to miss. To be moving too fast off to the next thing and away from here. It is a rare gift to be still like this.
The Great Blue Heron is here today. I didn't see her at first, as she blends into the tangled, weedy shore. Revealed, like the day, through the mist. I have a kinship with this bird. Have followed her many times as she shyly wanders in and out of the bay. I know she will leave again soon and I want to hold her back. I'm not ready to let go, yet at the same time I understand her need to fly.
I have no idea if this is a male or female heron as they look identical from a distance. The size of this one might suggest male, but for this story I'm going with my gender.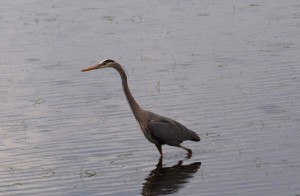 When I first spotted her, she was standing tall and straight. Unassuming, grey, nearly hidden in the shadows of the towering poplars and pines. Shaded by all the others. Pelicans, ducks and geese, loons, ravens and many other birds, including the eagles. All more visible, more bold. Yet when the heron spreads her great wings and flies in, flies away, she is the most glorious of all. Her grey turning to sky blue, soft like the morning across and edged with the darker hue of dusk.
Flying alone, she is led to her next destination by her own guide. Something that tells her when to soar across the bay, up to the highest tree along the shoreline or down again to rest upon a river island not far away. But far enough away that we miss her as soon as she leaves. The heron flies away in my mind on this day as I crawl along the damp shore, camera in hand. I want to capture this time, this memory before it is gone. I have missed many of these pictures.
Then, as I pause, contemplating the heron's grace, an eagle interrupts the scene. Eagles are not unusual in the bay, but this setting isn't right somehow. The heron has boldly landed on the tallest pine tree across the bay. The eagle doesn't like this. Why I'm not sure. Possibly he protects a nest somewhere in the tangled bushes beyond. He circles impatiently as the heron raises her beak. Is she taunting him, blind to this danger? Will she get some sense and get away to safety? Get away! I want to shout from my spot on the weedy shore.
Nothing happens and I wait patiently. Then impatiently as life calls me away. I have work to do. I stand, glancing over at the foolish heron. As I turn and start up the hill to the cabin, there's a flash of blue grey. It is the heron but she is straight and thin as she thrusts forward across the sky. Ruffled black and white follows. Eagle. He's had enough and is pursuing her. I'm stunned at how fast she is. I had no idea she was so strong, so sure. But he's quick too. They skim past me, out toward the creek, over the rocky ridge and then they are gone.
We do not see the heron again for a long time. Eagles, always the more prevalent in our bay, return often, but I do not know if it is that one. The one who chased my heron out of the bay.
When she does return, she's changed somehow by her time away. She skirts the edges of the bay, seems to glance more often over at the eagle perched atop the big pine not far away. But she doesn't bait him this time. Does she remember her close call?
I can't really tell if she is the same heron and I don't care, as she spreads her wings and floats across my bay. She is back. She is hope. And I am happy to watch her fly.
Photo credit: Heron and Eagle – Owen Deutsch; secluded bay – Michael Fournier, Winnipeg and Kenora; lonely Heron – me.