I got a couple of writing prompts around the same time that couldn't be ignored, nor could the epiphany they inspired.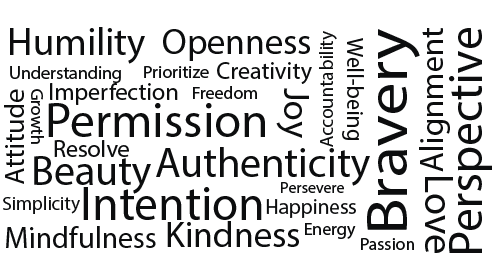 One was from the Isolation Journals (a writing group I belong to). It asked "How can your presence enhance the growth of your community? It was actually part of a beautiful prompt called The Human Mycelium by Fernando Murillo. In it, Murillo likened his release back into the community after a long prison sentence to the discovery of mycelium and how that natural network of fungal threads or hyphae is not unlike the threads of humanity in community that unites us all.
The next came from a story telling community I'm a part of – Story Republic. SR's mentor, Bernadette Jiwa asking us to write about an epiphany.
This gets a little complicated so bear with me. It's how a writer's mind sometimes has to work through all the cues coming at us, to formulate a story that matters. As both of these arrived, I had just completed a Values workshop offered by my friend and co-Story Republic community member Saba Mirza. Sabah exudes an abundance of humanity and compassion so I was thrilled when she offered to do a workshop with us about Values. I live very strongly by my values – when I was in therapy after a bout of burnout the therapist actually said she'd never counselled anyone as firmly set in their values as me. Good or bad, it's what gets me through tough situations.
For IJ prompt, one word stood out for me. Compassion. It's needed in spades here in my new hometown. This emerged as my most prominent "core value" during Sabah's insightful session.
Sabah asked us to write down situations – past, present and future – that basically felt good in our gut, where our values were being constructed or stored. There's much more to this but for now, I'll just share my "lists"
Past
My aunt and uncles 25th Wedding Anniversary where we re-enacted their wedding vows with my mother and aunt being trembling bridesmaids, I was the flower girl (wearing my mother's wedding dress!), and my grandfather walked my favourite auntie down the "aisle" – which was a dirt pathway strewn with dandelions. It was hilarious and a longstanding reminder of the power of laughter and shared stories like this in families that truly is the glue of our lives.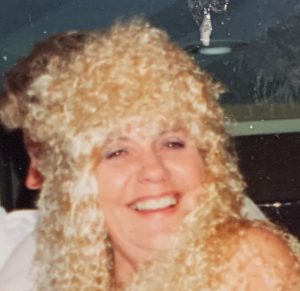 The last Christmas with my grandfather when we did a silent auction and he wanted the urinating lawn ornament. Again his laughter was contagious.
Going to Disneyworld with my mother.
The starlit evening when my husband proposed to me.
The birth of both my children.
All the years of cuddles on the couch at the end of the day with my kids.
Holding hands with my son, which I still do even though he's all grown up.Watching him be one of the kindest people I know.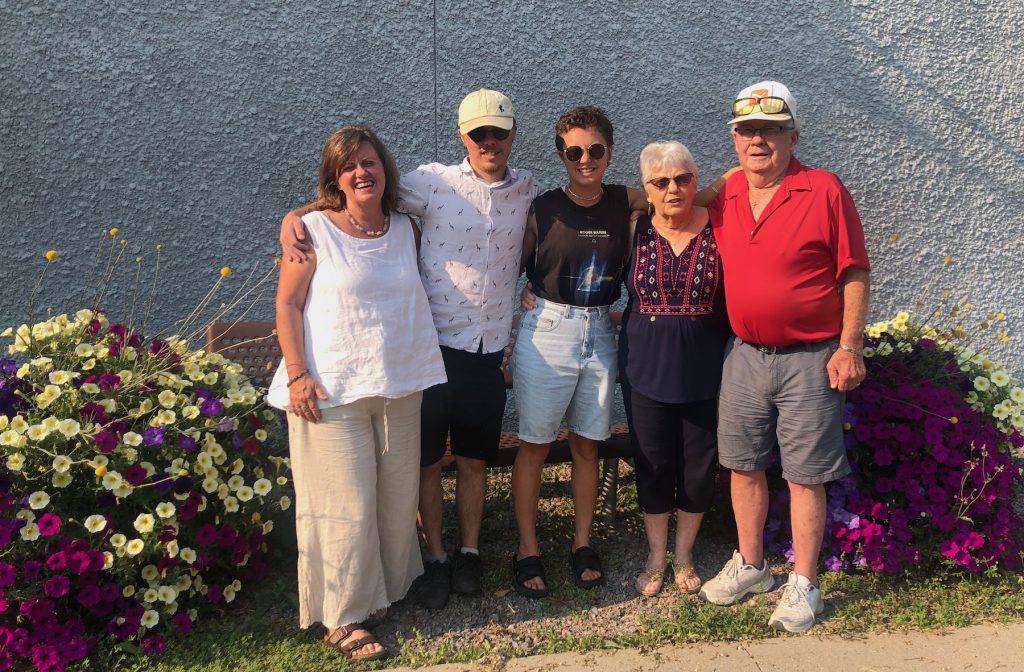 Holiday dinners hosted by my mother in my childhood home.
Sitting at my grandmother's kitchen table with my favourite snack of whipping cream, syrup and fresh baked bread.
My grandmother brushing her fingers along my hand whenever I sat beside her.
Present
Being in spaces with people who I love and love me back unconditionally.
Laughter as medicine, there is always an abundance of it.
Feeling safe, special and valued.
Being a contributor – I have always been a helper even when very young.
Food prepared and served with love. Food has always been the "glue" for our gatherings that holds everything together.
The teachings of the matriarchs who were respected and celebrated in my family
The joy and love, laughter and community in our family, that has always overshone the struggles any of us are having individually. Our love binds us, is unquestionable. We know with certainty that we will be welcomed, loved, and celebrated.
Future
Respecting and recognizing the worth of everyone in the room.
Honouring the contributions of everyone.
Being free and safe with people you trust.
Laughter as medicine.
The power of food to bring everyone into the fold/to the table.
The strength and hope of community.
Valuing the wisdom of our elders.
Accepting everyone for who they are,
Loving unconditionally.
Sabah then shared another prompt that invited us to think about a situation where we could enjoy the company of people we admire. It could be anyone from anywhere. While I would love to sit and enjoy a confab with famous poets, novelists, and renowned social justice activitists – that's not who I chose.
I was sitting down to dinner with women, four of whom I have done so many times before – my mother, favourite aunt, my mother's mother and one of my oldest (she's in her 80's!) best friends.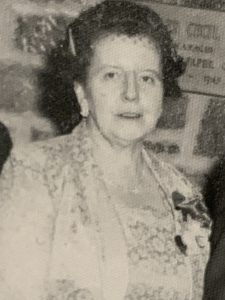 The fifth, my dad's mother, I never knew, but she would have fit perfectly in this group of strong-willed women who are all wise, empathetic, generous, non-judgemental, fantastic caregivers and cooks, and brimming over with compassion and humanity. I never had the opportunity to meet my grandmother Eva but have heard many stories about her – the matron of what in those days was called the "Indian Hospital". An Indigenous Elder I met told me he remembered her, that she "saved his life". I'm proud to be a descendent of this amazing woman who lives in my heart if not my memories. I feel her in my soul.
I've also come to see and appreciate how all these women love to laugh, in the case of my mother, aunt, and the grandmother I knew, full snorting, guffaw belly laughs. Humour is medicine we have all turned to in tough times.
After "dinner", Sabah asked us to look at common threads that united us all and then to think about the values they instilled. My final list looks like this:
Compassion
Resilience
Acceptance
Courage
Generosity
Love
Empathy
Openness
Non-judgement
Kindness
Honesty
Humility
Sabah said that for a value to be truly "solid" it needs to "have some teeth and may require you to make some sacrifices if push comes to shove."
That brings me back to the original prompt about how my presence enhances the growth of my community. If I were to look at this list, it makes sense that I would put these values to work where they are needed most. In this small community that's on the streets where a startling number of people live. As a newcomer, helping them puts me at risk because the plight of those experiencing homelessness, addiction, mental health issues is a bane on this town, and has been for as long as many long time community members can remember.
But Sabah helped me see that I am in fact ready to put some "teeth" into living these values even if it means I'll have to pay in some way. I am humbled by the resilience and grace I see in so many people who are living rough. It's the least I can do to show some compassion, generosity, love, empathy, openness, non-judgement and kindness to people who I have come to know. I am better for seeing them and hearing their stories.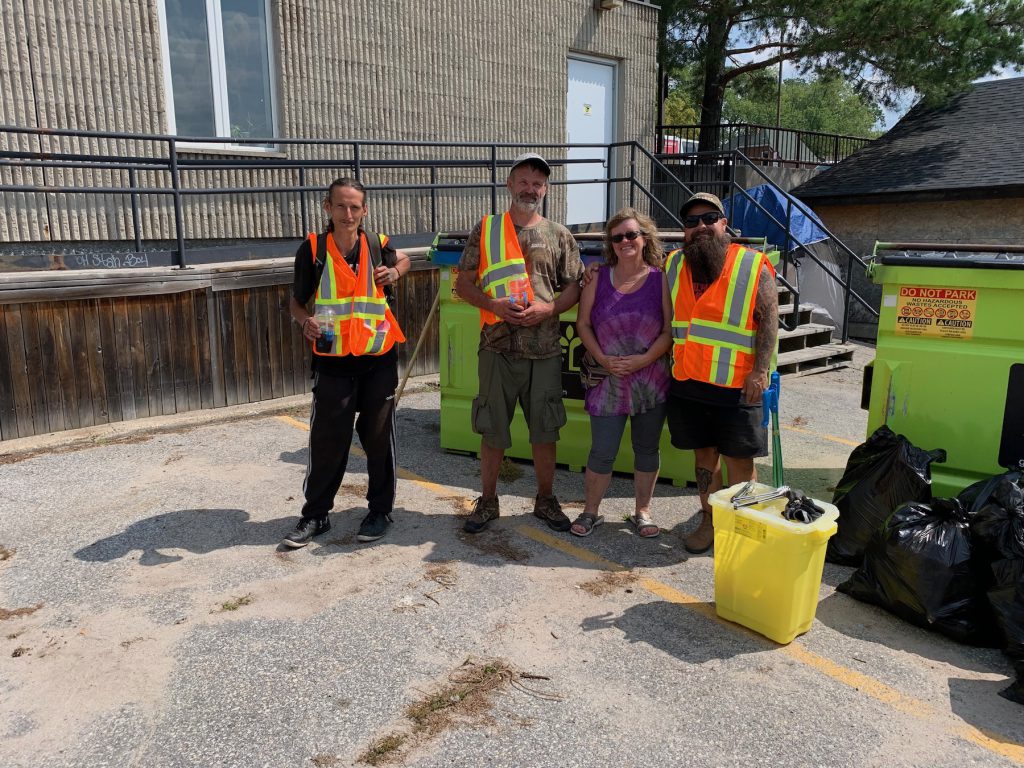 While this might "enhance my community" in some way it's the least I can do, because Sabah helped me see something else.
Indeed, an epiphany.
I come from a strong line of women who would do the same.
---
The epiphany also inspired a poem.
An epiphany
 Two writing prompts
 arrive at the same time
 inescapable cues 
 for where I need to go
 to break the lasting hold
 of isolation
 that should have loosened
 its grip by now.

 The first, The Human Mycelium*
 likens a network 
 of fungal threads or hyphae
 to the human experience,
 our search for connection,
 relationships, community.
 The second, Epiphany**
 nudges me to look
 at how this realization
 changes everything.

 Both hold me accountable 
 to the responsibility I resist
 to be present
 sow the stories
 so they can bear the fruit
 of my troubled heart. 
 
 Can these cells of good intentions
 break the solitude
 that envelops me
 and so many
 in my community
 like a  single mycelium spore 
 spreading, growing, uniting us all. 
 A friend invites me
 to dig deeper
 take my wanderings
 below the surface
 of my discontent
 to another time
 before the loneliness.

 And there it is
 the story
 I need to hold,
 remember–
 the epiphany.

 My ancestors
 have always been with me
 cultivated those roots
 I now seek to grow,
 I was never alone. 

*Inspired by Prompt 253. The Human Mycelium by Fernando Murillo with credit to The Isolation Journals
**Bernadette Jiwa, The Story Republic