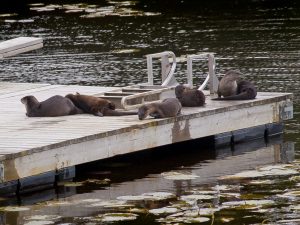 There's been a change of scenery in the MightyWrite world. We've recently relocated to our camp, just outside Kenora, Ontario, where "neighbours" like these are close by for most of the year. This was earlier in the season. The view from my office today is in the photo below.
Other than our new neighbours and address, there's very little change for our clients and colleagues as we'll be continuing to offer the same great customized writing and communications support as we always have.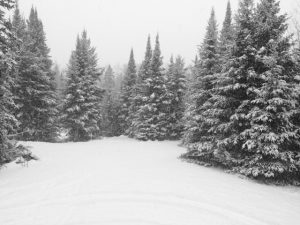 Connecting to our core values
While most things went right during our move, a few went wrong with painful results. I was still reeling from one of these when I attended Brene Brown's Daring Leadership course a week later.
What great timing. The course opened my eyes to the importance of being aware of and aligning with our values in everything we do both professionally and personally. I wish I'd known this during the move! Had I been able to step back and see how my values were being threatened in a few instances, I likely would have understood my emotional response better. I also could have regrouped to respond in a way that aligned with my values (see below). That way, even if things still went wrong, I would have felt like I did the best I could.
So, with that tough lesson learned and under the brilliant guidance of Brené Brown, I decided to draft up some core values to help guide me and my family, as well as MightyWrite in the future. Brené advises you should only have a few, but what the heck. Here's the current long list. Also, (editor friends) I intentionally didn't write these to all be in the same voice. They're written as they came from the heart.
I also didn't include Integrity in the list because it's the overarching theme of everything we do. For us, it's kind of like breathing…or drinking a cup of coffee.
Kindness
It never hurts to act in a way that considers the pain of others.
Compassion, kindness and respect go a long way every day.
Commitment
Do what we say we'll do. Always.
If our heart isn't in it, we shouldn't do it.
Truthfulness
Seek the truth, tell the truth and protect the truth (see also Kindness).
Accuracy
Getting it right is better than getting it fast.
Partnership
Be a member of the team, not a commodity.
Everyone has something valuable to contribute.
Consideration
Think before we act.
Be open to all the possibilities.
Self-Care
Honour all aspects of well-being.
Take care of one another.
Passion
Do purposeful, positive work.
Make a difference.
Wisdom
Listen and learn.
Strive to be wise rather than popular (see also Humility).
Boldness
Go where no one else wants to go.
Recognize that it takes as much courage to admit fears as it does to face them.
Choice
We get to choose our own response to challenges, difficulties, or situations that don't align with our values.
Humility
It isn't all about us.
Value what others bring to the table.
Empathy
Everyone needs both understanding and people on their side.
A compassionate ear can draw out the greatest stories.
Understanding
Not everyone will share our values.
Be open to different points of view.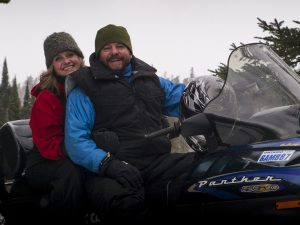 I would love to hear how you have succeeded, maybe even failed, or what you've learned by paying attention to your core values. Please leave your comments below or send me an email.