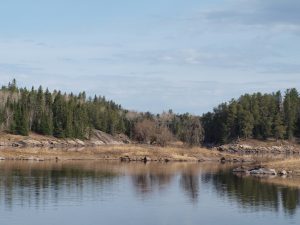 This view is one of the ways I protect both my physical and mental health. It's Mental Health Week and the Canadian Mental Health Association (CMHA) has some great information and resources at mentalhealthweek.ca.
In the article "How is mental health like physical health?" CMHA states: "In the same way that we all have a state of physical health, we all have a state of mental health. Mental health is more than the absence of mental illness." The following resonated with me.
Even if you don't have a mental illness, you may at times feel mentally unwell. Stress, an overwhelming schedule, and difficult life events or circumstances can put pressure on your mental health.
Yep. Been there. Done that. Recently.
Despite the fact that I'm now living and working full-time in my cabin-turned-home immersed in the splendour of nature and with a gorgeous view, I was not feeling my best as the cold, hard edges of winter hung on and on.  This was amplified by grief and a succession of losses both personally and professionally.  When these feelings emerged I felt ungrateful and weak. I was "living the dream" wasn't I?
I reached out to a few people – my support system – who have been with me through this new "journey". They reminded me that there has been a lot of change and while much of it is good, there's  also the losses and grief. And that it was okay for me to feel this way.
Spring has sprung and I'm starting to feel better. I think we can all take a page out of Brené Brown's teachings in The Gifts of Imperfection:
Get Deliberate: Carve time out of every day, even when multiple priorities demand your attention, for creativity or whatever feeds your soul.
Get Inspired: Make connections with like-minded people with whom you can share ideas, respectfully debate issues or somehow make a  contribution to the stories around you.
Get Moving: We all like to feel safe and comfortable but as as Brené says there comes a time when we need to open ourselves  to the risk of "feeling vulnerable and new and imperfect."
This last point brings me to something else I want to set straight. Last week, I posted about my struggle with good enough as it relates to my work as a freelance writer. In that article I railed against good enough a bit, in particular when it becomes a habit. That's my professional stance and I'll stick by it but I'll also restate, without any judgement, that getting something out is often better than doing nothing at all –  hence the appeal but also the true gift of good enough.
Perfectionism isn't our friend and there are times when all we can do is step back and know we did our best…even if others disagree.
Here are a couple of key messages that CMHA provides in it's Mental Health Week toolbox:
Mental health is about more than mental illness
One in five Canadians live with mental health problems, mental illnesses or addiction. But the reality is, five in five of us have mental health, just like we all have physical health.
We can all benefit from celebrating, promoting and acknowledging the role that good mental health plays in living a full and meaningful life.
Let's #GetLoud about what mental health really is
Mental health is about more than being happy all the time. It's about feeling good about who you are, having balance in your life, and managing life's highs and lows.
Everyone deserves to feel well, whatever their mental health experience. And we all need a support system to lean on.
Please, join me and let's #GetLoud about mental health — our own as well as that of others who struggle, are recovering, or need our help and understanding.
Also, please be good to yourself.