Today is World Suicide Prevention Day. While the issue of suicide has always been important to me,  I had never been personally affected, although I knew of and had offered what support I could to others who had. Still, I knew nothing of the full measure of such loss. That was until last year when a close family friend died by suicide.  He was young, a bright light in the world, with great parents and friends, and a promising future. Yet he wasn't able to see his way out of the darkness.
That's why, when  I was asked to do some writing about the National Walk for Youth Mental Health this spring I was immediately on board. The fact it was named Hope in the Darkness brought the issue home for me. I was energized to be a part of this, even though it brought me face to face with the grief I've felt since we lost our friend last September—almost a year ago today.
The cross-country walk was initiated by Sgt. Kevin Redsky of the Anishinabek Police Service from Shoal Lake 40 First Nation whose niece died by suicide in 2013, while in the care of Child and Family Services in Winnipeg. "The walk is inspired by her story and the stories of other young people who have struggled with mental health issues and the causes including the child welfare system, poverty, intergenerational trauma, and racism," Redsky said. "The main purpose of the walk is to bring youth and police together to address mental health and to rebuild relationships between young people and police."
The hope was also to show communities, and in particular young people, that police officers do care. This was a surprise to some of the youth along the way and something that was especially important to Mitchell Boulette, a youth police officer for Treaty #3 who personally walked several hundred km for the cause. "Kevin shows he cares by walking every day," Boulette said. "He's encouraging everyone to come out and share any experiences they've had with police officers during a mental health crisis." This in turn, he said, is providing police with a better understanding of how they can be more effective in helping young people in these situations.
Boulette has lost two family members to suicide and has personal experience of depression and reaching out for help. He saw the walk as a great way to address the stigma that youth, as well as police officers and the public in general, may feel about asking for help. He shared how he feared that admitting he was struggling would have a negative impact on his career and life. But he did reach out and got the help he needed and urges young people to do the same. "I'm living proof that if you reach for that help, you can beat it."
The walk along the TransCanada Highway ran between April and August 2018, bringing together youth, families, communities, police, and mental health service providers from the east and west coasts. Walkers from the two directions met for a grand finale in Winnipeg, Manitoba, on August 3, 2018. They merged in front of the Canadian Human Rights Museum, accompanied by traditional drumming, singing and a  jingle dress healing dance.
The turnout and support from law enforcement was inspiring. Winnipeg Police Services was actively involved throughout the day, doing traffic control but also walking the route from the East and West sides of the city – many in full uniform in the blistering heat.  RCMP also walked and these forces were joined by Manitoba First Nations Police, Ontario Provincial Police (OPP), Treaty #3 Police and Anishinabek Police Service who all spoke at the welcoming ceremony that followed at the Oodena Celebration Circle at the Forks. Watching these individuals walk and later stand alongside the large number of youth that participated in the day suggested that Redsky's goal had been accomplished – at least in part. 
Redsky shared that with over 68,000 law enforcement officers throughout Canada, there is more work to be done. "This walk shows us there's more work to do in terms of making this a real police-driven initiative so we're going to be counting on the services to really get involved like our host police service (Anishinabek Police Service) has." 
The walk provided a platform for action and learning. "What we've learned is the answer isn't just funding or a therapist; the answers really lie in communities taking action  — relying on service providers but standing up and being active and involved. The reality is you have to make adjustments to make things work better, whether that's using social media to contact people or being available on weekends and 24/7."
One of the greatest outcomes has been sharing by young people. 'These have been incredible stories and the strength is unbelievable."
"There have been so many youth lead walkers on this journey, there have been youth facilitators in this process, and there have been youth volunteers as well. So there's been a lot of opportunities for youth to really share on a platform that's culturally safe that they can trust."
This has included talking to police officers, something many of the youth had never done before. It is estimated that the total engagement and reach was about 100,000 people. This includes over 1,500 young people that walked or participated in some way.
The words shared in the Oodena Circle by law enforcement, walkers, youth and even the Mayor consistently reaffirmed to the youth gathered that they are not alone.
Chief Irwin Redsky, Shoal Lake 40, talked about how important it was to "come together in the circle" to talk about the issue of youth mental health and thanked the walkers, including Redsky and Boulette, for bringing people together on the issue.
When all was said and done, it was the youth themselves whose messages really struck home. Clyde Moonias from NAN Youth Council, urged anyone who was feeling hopeless to remember that there is hope, that they mattered and that each and every one of them was sacred. Will Landon, from Treaty #3 Youth Council, echoed these feelings and the need for communities to take action – a lesson he learned firsthand walking over 200 km.  He saw the power of "walking the talk" and the need for investing in the "business of hope." 
In wrapping up, Redsky was humble about his 4,600 km walk, simply saying that the stories were all too familiar across Canada. He talked about the four flames, an integral part of the Hope in the Darkness movement.
It only takes one small flame to start a fire, and that it can build from there with the actions of everyone who take steps to start the conversationand create light where there's been darkness.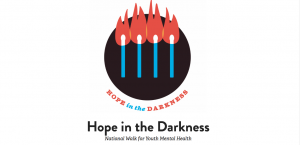 Following is more about the four flames that were lit along the journey:
1st match lit April 1, EAST COAST START at Cape Spear, St Johns NFLD: Starting the conversation – addressing the stigma
2nd match lit May 15, WEST COAST START at Haida Gwaii BC: Missing and Murdered Indigenous Women and Girls and the impact on mental health
3rd match lit July 13 THUNDER BAY ARRIVAL:  Youth experience with racism
4th match lit Aug 3, WINNIPEG CLOSING CEREMONY: Youth at risk/child welfare
I definitely saw a "spark" growing  and spreading through the Ooneda Circle that was packed with representatives from law enforcement, mental health and youth support workers as well as community leaders and families — all ready and willing to be part of the change that needs to happen. To be part of the solution.
To be part of the light and a way out of the darkness.
Additional reading and resources:
The International Association for Suicide Prevention provides resources and asks us to light a candle at 8 pm tonight to show our support for suicide prevention, to remember a lost loved one, and for the survivors of suicide.
Providing hope and help for those contemplating suicide is an article courtesy of the Great-West Life Centre for Mental Health in the Workplace.
Canadian Association for Suicide Prevention provides information and links to resources across Canada.
Quinnton.ca provides links to emergency community resources.
Mumford and Sons agreed to allow their song Ghosts that We Knew be the official song of the walk. The song was chosen for its themes of hope and reassurance that everything will be all right. It's available on itunes and YouTube.