Amy Tung: Love brings us together
Last month, I wrote about character strengths and how they can help us show up to the world in the best way possible. I also shared that my top character strength is perseverance, which explains a lot about me! Because of this, I was excited when I read that Amy Tung's I Am Love Project's intentional bracelet for March was –  you guessed it -"Perseverance".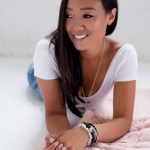 I'm a huge fan of Amy and wrote about the I Am Love Project for the Local Beat a while back. Amy's focus is about creating a "chain of love" that involves bringing people together – currently in Winnipeg, Manitoba – to raise funds for charities that are making an impact in our communities. Her approach includes releasing a new crystal intention bracelet and hosting a pop-up yoga event each month where all proceeds are donated to the selected charity. The bracelets are made by local youth and distributed online and at participating sponsors. The cost of the pop-ups are covered through ticket sales and sponsorships.
Amy is eloquent, enthusiastic and the real deal when it comes to making a difference. Her top character strengths of curiosity, kindness, perspective, spirituality and appreciation of beauty and excellence all shine through in her tireless work to make the world a better, more loving place.
Following is the transcript from our conversation about perseverance, community work, being part of the solution and love.
What made you decide on Perseverance as this month's theme?
In March, we're supporting the Higher Learning Fund whose mission is to give students the chance to overcome any obstacles to furthering their education. The bracelets tie to the mission of the charity, so in this case it was to persevere through academic or even life goals — to set  your mind to it and to do it!
Thinking about all the obstacles and all the hardship that we have to go through as we're growing up, it's super important to have that support group to be able to help us, to guide us, and to have those tools and resources.
We get discouraged, we don't know where to get help — where do I start, how can I get there? I want to go to university but I don't have the funds. Does that mean I don't get to go to school? That asking for help is part of being vulnerable and persevering, but also the first step toward success. School is tough – applying for funding is a long process and we do get discouraged.
The March Perseverance intention bracelet was made of Ocean Jasper, which is the "taking care of business" stone. It helps you focus and cleans emotional blockages so that you have the mental space to do tasks with a clear mind. Believe that your past mistakes should not define your future. As a talisman of patience and a ward against negative and harmful thoughts, Ocean Jasper will help the achiever in you to persevere in whatever you set your mind to, whether it be in academics or in your life goals. Let it heal and open your mind!
What made you choose the Higher Learning Foundation?
They believe that finances should not hinder us to pursue our academic goals and that everyone deserves a second chance. You apply for the funding, but in the selection process they are looking for you to give back to the community and be a mentor to someone else. You need to do a certain amount of community hours in return for the funding. I love supporting them and helping youth in becoming future leaders. Students often don't know about these funding opportunities, so we're also using our platform to help spread the word. We really want to support these smaller charities that are doing great things in the community.
Tell me about the pop-ups
It's not just $20 for a yoga class. Everyone is coming into the circle to support the charity – so there's a breakfast and snacks and tons of great prizes at every event thanks to our sponsors.
It really showcases the value of community coming together.
A little goes a long way. The Pop-up for the Higher Learning Fund was held on Saturday, March 24, at the Fort Garry Hotel and featured the usual combination of a "Chain of Love Pop-Up Sweat" featuring a yoga fusion experience by the Yoga Barre, complimentary Freshii breakfast, Cranked Energy bites and a slew of sponsored prizes. It was successful in raising $3,000 for the Foundation, which will go toward two scholarships for youth who have put themselves out there to ask for that help so they're really deserving of that additional support.
In April, we are supporting Ready, Set, Swim, which aims to remove all the barriers that prevent children, including newcomers, from getting swim lessons. They just launched a few months ago so they are still very new. The idea stemmed from the tragedy in Kenora, Ontario, where two young people, who were newcomers to Canada, fell in the lake and drowned. Swimming is such an essential skill but it's not cheap. Not everyone can afford it, so it's a really important cause to support. $120 will get them a swim package that includes their essentials along with swimming lessons. The fundraising goal is $3,000 or 25 swim packages. The pop-up will be held on April 28, 9:30 to 11:30 a.m. at the Richardson Building, Concourse level, Winnipeg.
The bracelet for April is called Emerge, made of Carnelian chip stone.
Carnelian's intention is to ward off the pressures of everyday life. In other words, carnelian helps you to stay afloat. It is the crystal of determination, perfect for when you're struggling to focus on the things that matter. This bracelet will help you in your resolve to get things done, and swim through to a more manageable time. You should be your first priority.  Remember that you are capable of doing anything, but you can't do everything.
Tickets and the Emerge intention bracelet will be available online as of April 1.
What kind of momentum are you seeing after your first eight months?
It's going well, it's growing, and it's definitely a good struggle. These are all great things –  growth and expansion is good, I have a team of volunteers and someone who is managing the schools. (The school visits  involve bringing healthy activities to the schools but also engaging students in making the bracelets, so they're learning about giving back as well.) I have a part-time assistant, and a sponsorship volunteer that gets sponsors every month.
We're supporting CancerCare in one of their campaigns in June, which will require 1,000 bracelets.
Our mission is to spread love across borders and across cultures. We'll be marking our one year anniversary in July with a cross-Canada event in support of the Mondetta Charity Foundation, whose mission is to reduce barriers to education. They are currently working in Uganda and Kenya. I've reached out to Oxygen Yoga and Fitness studios, who are one of our first sponsors, and they're going to run a corporate class in all their studios across Canada.
In June I'm going out to Uganda to take some footage so I can explain why money is going overseas and what we're supporting through our contribution to the Mondetta Foundation there.
Social entrepreneur, author and speaker Shaun Loney said that we are often overwhelmed because we're only thinking about the problem – but sometimes the solutions are easier. I see you as being part of the "solution".
I agree, I'm more solutions based. I don't like to just sit there and ponder a problem; I prefer to think about what can we do? I wouldn't say it's necessarily easier.
Solutions take a lot of mind power — that knowing that acts of kindness when multiplied by thousands can change a community, and when multiplied  by millions can change the world. I think that's the message we need to get across.
Work together, come together, be a team. Collaborate and make it loud and beneficial so that those in need of help get that support.
Shaun also said this, which I love: "Just get started. When you start, the damn thing will start talking to you. It will tell you what you need." Any thoughts about that?
I've been talking to many youth that have been invited to entrepreneur workshops and that's a message I would say as well. There is no failure, you just need to make that first step and that's already success. Just get started, allow it to flow. Everything will pop up to guide you in terms of what's next. Mean well, put your heart into it, and do what you can. There's so many things we can't plan for. Your business plan you wrote today, that's not necessarily how it's going to play out. Life goals, anything we want to pursue – the first step is just do it. It's that easy, that's success. You want to go to school, apply for it and then see what happens.
You need to pursue it, not just dream it.
Through love we can inspire, empower and create change within the community. 
Notes to reader:
The I Am Love Project is taking submissions for the 12 charities the project will be supporting in 2020 until June 20, 2019. Go to https://www.iamloveproject.ca/pages/how-do-we-pick-our-charities to get the details.
The Higher Learning Fund is determined to give students the chance to overcome any obstacles that have stood in the way of their academic pursuits.
Ready, Set, Swim is a community-based foundation that provides swimming lessons to children ages 6 to 18, including newcomers to Canada, who are among the highest at risk of drowning.